Grammarly: the online grammar, spell, punctuation, and sentence checking tool that is a go-to platform for everyone who is skeptical of the quality of their writing and wants to make sure that their grammar is up to the mark.
Well, As far as the proofreading capacity of Grammarly is concerned, It's the best in the world because it offers you a plethora of options and tries to curb the limitlessness of language by imposing rules that, if followed, produce a quality of language that is carefully grammatical and close to robotic.
Grammarly, The free versions do not do justice with something as wide and wild as language, and the premium versions cost you a lot. You can afford a really good website hosting at the rate of Grammarly Premium Upgrade.
So here's a list of 5 language proofreading and editing tools/software/platforms that charge less than Grammarly (if you opt for the paid version) and offer similar quality language checks.
6 Sites like Grammarly: (Best Free Alternatives)
Hemmingway
Paperrater
GrammarLookup (Free Grammarly Alternative)
You can look up this Punctuation checker (And Grammar checker) tool at www.grammarlookup.com. This a very good tool for those who want a simple and yet solution-oriented language editing tool with an easy interface.
It has two levels of language check and proofreading. The first one is "Lookup". All you need to do is to copy-paste the text in a big box in front of you or write whatever you want and then press the "Lookup" button and you will see a few or more words underlined with red or blue color.
Take your pointer to the underlined word and the tool will tell you the problem with that particular word or phrase.
For those who want advanced grammar check, there is a "Deep Lookup" button and this is what makes things interesting.  How? Well, this button takes you to Grammarly Premium. You can see the total and type of mistakes and then if you really want to know as to where you made an error, go for Grammarly Premium or come back to the basic "Lookup Button".
Try Grammar Lookup: (The best Grammarly Alternative)
ProWritingAid (Free Version)
What's better than a writing aid? Well, it's ProWritingAid!
If there is one of these platforms and tools that gives a serious challenge to Grammarly – more serious than others on this list, it is ProWritingAid.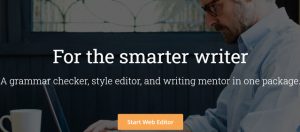 This tool helps you in two certain ways and with two clear options; either check the plagiarism in a document or simply go to the Editing Tool and see how this tool does not let go even the minute mistakes that you make.
Just like Grammarly, the best thing about this grammar-checking tool is its compatibility with other tools and platforms and apps where one gets to do a lot of writing. I'm talking about Chrome (Extension), Google Docs, MS Outlook, and most importantly, MS Word.
So, While you are working on MS Word, surfing the web, or writing Gmail on Chrome or you use Google Docs or MS Outlook, each and every word of yours will go through a systematic check, and you will only create clean and crisp prose.
Since they consider themselves the main competitors of Grammarly, they have followed in its footsteps to create a sort of tool that does exactly what Grammarly does.
Just like Grammarly: This tool also lets people choose from a range of writing styles such as general, business, blog posts, and few others. As far as the language style is concerned, one may choose from British, US, or general (internet) language quality.
While users of this tool like it because it works great against basic English writing mistakes and grammatical errors, they believe that this tool somewhat lacks at noticing minute punctuation errors, and it focuses more on errors like repetition and passive voice, etc.
You can find this amazing Grammarly alternative at https://prowritingaid.com/
Hemmingway App (Free)
Earnest Hemmingway?
If you've any serious love affair with the English language, you must have heard this name. Ernest Hemmingway was a famous American novelist who has been to Paris in the 1920s and known as one of the most famous of the "Lost Generation".
This tool has nothing to do with Hemingway, except it is about English language editing and improvement.
Hemingway is not a very advanced feature, but then in terms of grammar check and editing, no tool can be advanced, because language is not something that technology can understand so easily.
Even Grammarly is not perfect; you can feed a paragraph of Hemingway or some other author to Grammarly and see how Grammarly finds mistakes in their text too.
Hemingway (tool) has a very simple console that is based on two main functions: write and edit. If you click on Write, you get to write a text or copy/paste a text from your word processor to this tool and then you click Edit.
Edit immediately proofreads your text and shows you where you made some basic language mistakes. Just like Grammarly, it assigns different colors to different language mistakes.
With "color code, you can easily associate a sentence with a mistake and find out where you did not do it right.
For example, the sentences that are colored yellow, are hard to read. Tea Pink (or whatever shade it is) is really hard to read, green indicates the use of passive voice – so on and so forth.
You can find it at www.hemingwayapp.com
Jetpack (Free Features like Grammarly)
Jetpack sounds more like a suite of tools that you can use for multiple IT-related jobs and this is almost what defines it.
However, the "pack" also comes with a language editing and proofreading tool and when you upload it on your WordPress, you can do a lot, including checking the grammar and spelling etc. of your blog posts and website content.
Well:
There is nothing bad about admitting that all of these apps, tools, and platforms suck on the tailpipe of Grammarly. This tool also uses the color code.
When you go about using the tool on any of the texts that you have on your WordPress website, it scans the text and then comes up with colored icons that represent different errors and problems with the text.
For example, the red icon indicates all the wrong spellings (American English) as well as the words used incorrectly e.g. synonym of a word that was in the actual text, and instead of copying you just tried the first synonym that popped up in front of you.
The green icon shows the grammatical and structural mistakes and the blue icon works on the advanced level.
The blue icon addresses flow, expression and writing style, etc. For example, if you revert to the idioms that you memorized while you were in school, this tool will tell you then and there, that your language style is full of verbosity and obsolete expressions.
You can find details about JetPack's editing tool at https://jetpack.com/support/spelling-and-grammar/
WhiteSmoke (Software like Grammarly)
WhiteSmoke:
Yes, it sounds like a movie or suspense novel's name, but it is one of the best Grammarly alternatives that you can use if you are running short of money and Grammarly's Premium looks more like a rip off to you.
Just like Grammarly and ProWritingAid, this tool also targets a lot of online applications, tools, and platforms where one normally interacts with others and happens to write a lot.
As an example, take the wide range of internet browsers that it is compatible with; these are Chrome, Firefox, Edge, Safari, Opera, and others.
This grammar checker is not a shallow one like Hemmingway (although Hemingway does the job with a limited application), it goes deep into your discourse and writing, and it resurfaces with identification of some basic and advanced language problems like repetition, passive voice, tense shifts, incomplete sentences, basic punctuation issues, and subject-verb disagreements, etc.
However:
This does not mean that it is all about grammar; the spelling checker of this tool works really awesome as per the language choice. With an updated dictionary and a big database at the backend, this tool will not look up a word in a dictionary and immediately tell you where you are wrong.
You can also translate your text from English to as many as 50+ languages. However, the statistical machine translations used by this tool can be just as ridiculous as Google Translate.
You can give a try to this tool at http://www.whitesmoke.com/
PaperRater (Website like Grammarly)
Well, this is a rather less famous tool for language editing and proofreading. Here's the link – https://www.paperrater.com The best thing about this tool is that it offers pretty standard editing functions (that many others also offer) at a rate that will simply rule out the use of expensive tools like Grammarly and ProWritingAid.
For as less as $71.55 per year, you can enjoy the premium language proofreading and editing tools that you use everywhere in other language tools.
We are talking about the basic and most needed functions like:
Extensive and in-depth grammar check
A very accurate plagiarism checker
Real-time Essay Checking that helps you see where you are making a mistake
Flawless spelling check
Checks on problems like verbosity, sentence structure, and length, cliché phrases, passive voice and readability problems, etc.
Now wait for a second:
Does this detail make you think that this tool is the best because it offers so much value for so little? Well, let me pull you out of La La Land.
To start with, the quality of all the above-mentioned checks is only standard. It is definitely not as high as the quality of a grammar checker like Grammarly.
Then there come issues with a shallow understanding of the fabric of language, ability to differentiate US, UK, and internet English and there are other issues that prove that it can only be used as a good alternative to Grammarly or other elite editing tools, where money is a problem.
And folks:
This brings us closer to the last lines. Price is the factor that makes people skip a tool as good as Grammarly.
You can go with Grammarly if you can pay the premium charges, and it is the best investment in terms of language learning, but if the price is the issue, from ProWritingAid to PaperRater you can make a choice as per your budget.
FAQS:
How much Grammarly Cost?
Grammarly free version offers you features and it's completely free, the Premium version is $12 a month, the business plan is $12.50.
Is Grammarly Premium Worth?
It depends, First tries the free version of Grammarly, you can also use the free premium version as a trial period, you can keep it if it's worth it to you or downgrade to the free version.