Ever found yourself stuck rewriting an essay, wishing there was a quicker, more efficient way to get it done? That's where our Free Essay word changer Tool comes in. Using advanced AI technology, our tool rewrites your essay while retaining its original meaning. It's a straightforward, efficient way to rewrite your articles, essays, and even sentences. 
The Best Part?
It's free!
Leave behind the era of manual rewriting that costs you precious time and effort. This Free Essay Rewriter uses advanced AI to paraphrase and improve your essays in no time.
Word changer
Restructure sentences 
Improve text
Remove plagiarism
Rewrite the complete essay or article
Improve clarity & quality
Essay Rewriter Features
Extensive vocabulary 

Our Free Essay Rewriter Tool stands out with its extensive vocabulary. It's not about replacing words with complicated synonyms, but about choosing the perfect words to convey your ideas while matching your writing's style and tone. This not only makes your writing more interesting but also helps in fine-tuning your message.

High-Quality:

Content Quality is our top priority. Our tool meticulously rewrites your essay while ensuring the core message and tone remain intact. This feature provides you with a high-quality rewrite that maintains the main message of your original essay.
Easy to Use

We've designed our tool to be user-friendly. Whether you're a tech novice or a pro, the interface is user-friendly, making it easy for anyone to use. Simply paste your essay, hit 'Rewrite Essay', and let the magic happen.
Plagiarism-Free Content

In the academic and professional world, originality is key. Our tool transforms your essay, ensuring the output is unique and free of plagiarism. You can confidently submit your work, knowing it's unique and plagiarism free.
Extensive vocabulary 

Our Free Essay Rewriter Tool stands out with its extensive vocabulary. It's not about replacing words with complicated synonyms, but about choosing the perfect words to convey your ideas while matching your writing's style and tone. This not only makes your writing more exciting but also helps in fine-tuning your message. 
Multiple Languages

We understand that our users come from diverse backgrounds, and English might not be their first language. That's why our tool supports multiple languages, making it an ideal choice for international users.
How the Essay Word Changer Works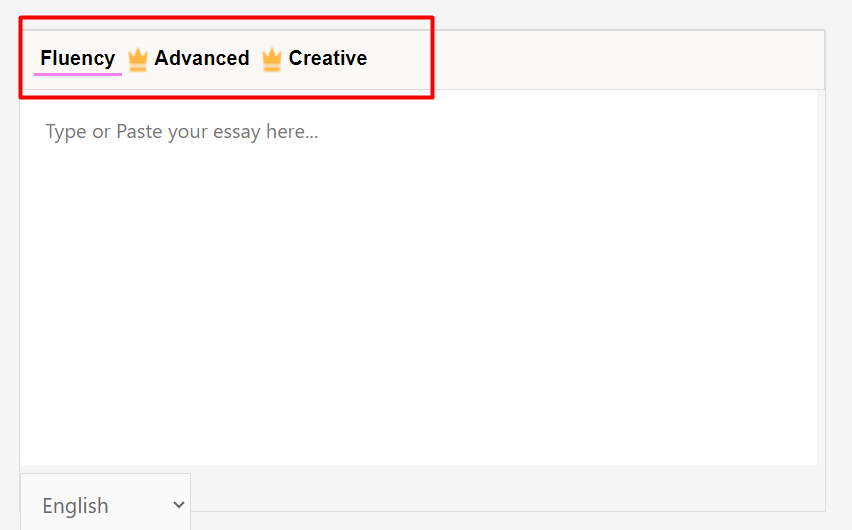 Copy the text from the desired location and paste it in the input box.
Choose the "language" by heading over to the bottom right corner.
Hit the 'Rewrite Essay' button and let the tool change words in your essay. It scans the essay, understands the context, and presents a rewritten version without losing the original meaning.

The rewritten article is in front of you. You can review the output, make any necessary edits, and then copy your essay, and paste it in a Word Doc, Google Docs, or your desired location.
What's Unique about this Essay Changer Tool
Efficiency: Our tool is designed to deliver rewrites that keep the original meaning yet are unique.
Simplicity: Just paste your text, click rewrite, and voila, your polished essay is ready.
Free to use: Did we mention it's free?
Instant Rewriting: Work smarter, not harder.
Always Up-To-Date: We continually update our tool with the latest AI improvements.
Optimize Your Writing with Three Levels of Excellence
Our tool offers three levels to rewrite essays. Each mode has been crafted with specific needs in mind, ensuring everyone, from students to professionals to creative writers, can benefit from our Essay Word changer Tool. Choose the one that best fits your needs and see how it can fuel your writing experience. 
Fluency

Our Fluency mode, which is completely free, does an excellent job at rewriting your essay, ensuring it reads smoothly and makes sense. It's designed to maintain the core of your original content while changing the sentence structure and vocabulary to create a unique piece. It's perfect for general rewriting tasks and guarantees fluency in the rewritten text.
Advanced

In addition to doing everything the Fluency mode does, the Advanced mode incorporates more sophisticated language and writing styles into the rewrite. It's great for academic and professional essays where you strive for language proficiency. This mode ensures your rewritten essay not only communicates the original message but does so in a more refined and polished way.
Creative 

For those who need a touch of creativity, we have the Creative mode. This mode is all about making your essay stand out. It doesn't just rewrite your essay; it infuses it with a unique style and tone, making it more engaging and compelling. Whether you're writing a narrative essay, a blog post, or a creative piece, the Creative mode will add that extra spark to make your content unique and creative.
Multilingual Essay Rewriting Tool—Supports 16 Languages
Understanding the diversity of our user base and the global nature of writing, we've integrated multi-language support into our Free Essay Rewriter Tool. This feature ensures that our tool can handle essays in multiple languages.
What does this mean for you? If English isn't your first language or if you're writing essays in a foreign language, you can still make use of our tool. Just paste your essay in your preferred language, and our tool will rewrite it while preserving its original meaning and tone.
Moreover, the multi-language support also offers an incredible learning opportunity. By observing the original and rewritten versions of your essays, you can understand different ways of expressing the same idea in the language of your choice.
The Free Essay Rewrites Supports the Following languages:
English
Dutch
Espanol
French
German
Indonesian
Norwegian
Portuguese
Turkish
Russian
Japanese
Chinese
Swedish
Romanian
Persian
Vietnamese
Common Uses of Our Word Changer
| | | |
| --- | --- | --- |
| Academic EssaysStudents find our tool incredibly helpful in ensuring their essays are plagiarism-free and unique. | Blog Posts Bloggers and content creators use our tool to refresh their older content and keep it relevant. | Professional WritingFor professionals, our tool is a boon in rewording reports, proposals, and presentations, ensuring unique and impactful communication. |
Your Security and Satisfaction are Our Priority
| | | | |
| --- | --- | --- | --- |
| Secure Experience With strong privacy measures in place, your data remains secure. The peace of mind knowing your work isn't stored or shared is an invaluable advantage. | Quality AssuranceOur tool maintains the original meaning of your essay while changing the wording to ensure uniqueness. It's a smart way to avoid plagiarism while enhancing the overall quality of your writing. | Cost-EffectiveIt's free! Often, quality digital tools come with a price tag. But we believe in making advanced technology accessible to everyone. With our Free Essay word changer Tool, you enjoy a premium service without spending a dime. | 24/7 AvailabilityOur tool is online and available round the clock. Whether you need to rewrite an essay during the day or in the middle of the night, we're here for you. |
Advantages of Using the Essay Word changer
Our Free Essay Rewriter Tool isn't just a standard writing tool – it's a revolutionary platform that brings a wealth of advantages to enhance your writing experience. Here are the ways you'll benefit:
Boost Productivity: When the burden of rewriting essays is off your shoulders, you can focus on researching, brainstorming, and generating new ideas. This increases your overall productivity.
Refine Writing Skills: As you observe the differences between the original and rewritten essays, you'll gain insights into unique ways to convey the same message. This helps in honing your writing skills.
Avoid Plagiarism: Our tool effectively rewords your essays, ensuring originality, which is crucial in maintaining academic integrity and avoiding plagiarism issues.
Unlimited Access: There's no cap on the number of essays you can rewrite. Use the tool as much as you need, be it for one essay or a hundred.
Enhance Readability: By presenting ideas in new ways, our tool enhances the readability of your essays, making them more engaging for your readers.
Reduce Stress: With quick, efficient rewrites at your fingertips, the stress of meeting deadlines or creating original content significantly reduces.
Versatility: Our tool isn't limited to academic essays. You can rewrite articles, blog posts, reports, presentations – virtually any text that needs revising.
Time-Saving: Remember those long hours spent trying to rewrite an essay or paragraph? With our tool, you can get a fully rewritten essay in seconds. This frees up your time to focus on other important tasks.
FAQs
How does the Free Essay word changer work? 
Our tool uses advanced AI technology to understand the context and nuances of your essay, and then generates a unique, rewritten version while preserving the original meaning.
Is the Word Changer Tool free?
Yes, the Fluency mode of our tool is absolutely free to use. We also offer premium Advanced and Creative modes for a more sophisticated rewriting experience.
How do I use the Word changer? 
It's simple! Copy and paste your essay into the tool, select the mode (Fluency, Advanced, or Creative), select the language, and click 'Rewrite Essay'. You'll have your rewritten essay in no time.
Can the tool rewrite essays in languages other than English?
Absolutely! Our tool supports multiple languages. Just make sure to paste your essay in the desired language, and the tool will do the rest.
Does the tool store my essays?
No, we respect your privacy. Your essays are not stored in our system after the rewriting process.
What's the difference between Fluency, Advanced, and Creative modes?
Fluency mode ensures a smooth and coherent rewrite of your essay. Advanced mode steps up the game with more sophisticated language and style. Creative mode infuses your essay with a unique style and tone, perfect for narrative and creative writing.
Are the rewritten essays plagiarism-free?
Yes, our tool change words in your essays to ensure they are unique and free from plagiarism.
Can I use the tool for professional or academic writing?
Yes, you can. Our tool is designed to cater to all kinds of writing, be it academic, professional, or creative.
What happens if I'm not satisfied with the rewritten essay?
If you're not completely happy with the output, you can run the essay through the tool again. The AI will provide a different version each time, so you can choose the one that best fits your needs.